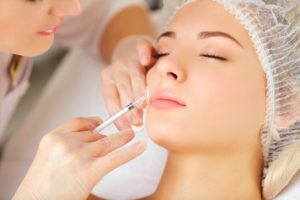 Your niece's wedding is coming up in a few months, and you'd rather not arrive sporting a wrinkled forehead or crow's feet around your eyes. It's understandable that you want to look your best, which is why opting for Juvéderm or Botox is a great way to regain that youthful appearance. But how long will the results last? If you have it done now, will the wrinkles come back before her September wedding? Find out how long you can expect your Juvéderm or Botox results to last.
What is Botox?
This popular cosmetic service has been around for decades, and it isn't available only to Hollywood movie stars. Working professionals, stay-at-home moms (and dads), as well as everyone in between can receive Botox injections to help recapture a more youthful look.
Botox is a safe and effective method of eliminating fine lines and wrinkles. From frown lines to crow's feet to other wrinkles on your face, Botox works to prevent your muscles from contracting and creating those unsightly lines.
How Long Do Results Last?
You can expect your Botox treatment to last anywhere from 3 to 4 months. So, if your niece's wedding is in September, and you receive treatment in July, there's no need to worry about your aging lines reappearing in pictures. If you're hoping to maintain your results, it is imperative that you schedule follow-up appointments. Over time, your muscles will contract less and less, allowing your results to last longer before needing another treatment.
What is Juvéderm?
If you're looking to do something about those deep wrinkles existing around your mouth or nose, Juvéderm can help to plump a particular area and lighten these signs of aging. As the number one best-selling dermal filler in the United States, Juvéderm is made of hyaluronic acid and is injected into certain areas of the face.
It is strongly advised that when seeking treatment, you have a skin care professional administer Juvéderm. The process takes only 15-60 minutes depending on how many areas need to be addressed.
One of the best parts about this type of service is that the substance includes pain-reducing lidocaine, so you'll feel little to no discomfort during or after the procedure.
How Long Will It Last?
A typical treatment can last anywhere from 12 to 18 months, but there are a few things you should know about your treatment and maintaining your Juvéderm results:
In the 2-3 days after your procedure, it is advised that you ice the area to prevent bruising or swelling, both of which are common.
Do not plan to exercise vigorously 24-48 hours after your treatment.
Over the course of a 6-24-month span of time, your Juvéderm will slowly absorb and break down, making your lines visible again. When this happens, you'll need to book a follow-up appointment in order to maintain your results.
Appearing younger is an ongoing process, but it certainly doesn't have to be a pain! With Botox and Juvéderm, you can enjoy long-lasting results and a beautiful appearance. So, bring on the weddings, galas, family gatherings, and say goodbye to your fine lines and wrinkles!
About the Author
Elizabeth Estes Weldon, ARNP is a board-certified, Advanced Registered Nurse Practitioner (ARNP) with 12 years of experience working in dermatology, Botox, and dermal fillers. She earned her Bachelor of Science in Nursing from the University of Florida and worked for one year as a Labor and Delivery Nurse before earning her master's degree in Nursing from the University of Florida. As a Master Injector, she has continued her education and participated in many training courses related to Botox and Fillers. To learn more about her or our services, contact us via our website or call (352) 433-0888.