Skin Care Products – Ocala, FL
Transform Your Appearance Beautifully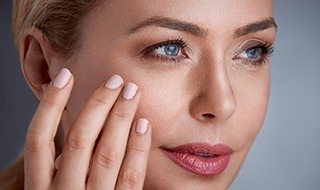 Choosing skin care products to use at home can feel like an impossible challenge. After all, what's truly the right fit for your unique features and personal preferences? Which products actually work and are safe? How can you ensure that your money is being used in the best possible way when it comes to maintaining your ideal appearance? At Lift Facial Aesthetics, Elizabeth wants to lend a helping hand. We're proud to offer several prescription-strength products here in Ocala that can be true gamechangers for our busy clients, both in terms of quality and affordability.
Discovering which option or options best compliment your particular circumstances will only require a single consultation here at our office. Contact us today to schedule a time to visit in person! You can also learn more about our particular skin care products by continuing to read below:
Why Choose Lift Facial Aesthetics for Skin Care Products?
Prescription-Strength Products for Exceptional Improvement
Reduce Wrinkles & Fine Lines
Plump & Brighten Skin
Obagi Tretinoin Cream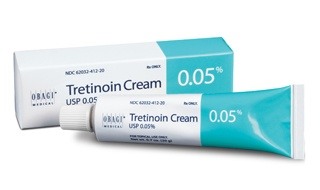 Have you noticed premature signs of aging or hyperpigmentation (when specific patches of skin become darker in color than the skin that surrounds them)? Tretinoin cream may be the right choice for you. This revolutionary product utilizes retinoid tretinoin and works from the inside out, being absorbed deep within the skin to increase cell turnover and produce smoother, healthier, collagen-enriched skin that's more youthful. Additionally, it will inhibit the new production of pigmentation, helping to minimize the appearance of frustrating blemishes, acne, and even scars.
Tretinoin should be applied to the face every night around 30 minutes after you've cleansed the skin and it's completely dry again. We do encourage clients to spend as little time in the sun as possible while using Tretinoin, as a sunburn could lead to uncomfortable skin irritation. Also, please plan to use the cream anywhere from six weeks to three months in order to fully reap the benefits — our team can give you an estimate on how long we think it will take for your particular symptoms to clear.
Obagi Professional-C Serum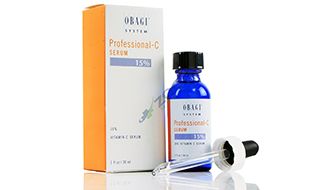 Regular exposure to Vitamin C can leave your skin looking youthful and radiant longer, and Obagi's Professional-C Serum will go a long way towards helping you enjoy these benefits to the fullest extent possible. The concentrated serum contains a whopping 20% of Vitamin C. Here's what clients can expect when using it on a routine basis.
The ingredients will neutralize free radicals that regularly break down collagen and elastin and lead to damage in the form of wrinkles, fine lines, and noticeable dark spots.
New collagen production will be promoted, plumping skin and minimizing the appearance of wrinkles throughout the face.
Dull complexions will be brightened evenly with the right tone and texture.
This state-of-the-art formula is ideal for normal skin, oily skin, and even a combination of the two.
When using Professional-C Serum, clients will apply a handful of drops to their face with a fingertip. It's ideal to do this in the morning with cleansed skin, preceding any application of makeup or sunscreen. While you may experience some slight tingling during the application process, this should steadily diminish over time with routine use.
Obagi Nu-Derm Clear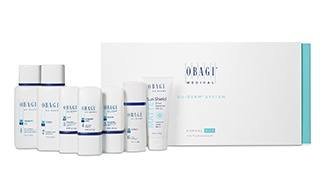 Over the course of a person's life, sun damage and hyperpigmentation can gradually age their complexion until they feel unhappy with the face that's staring back at them from the bathroom mirror. Thankfully, Nu-Derm Clear can make a big positive difference when it comes to the appearance of distracting dark spots and blemishes.
This hydroquinone-free skin lightener is primarily meant to lighten skin tone, minimizing any imperfections caused by sun damage, melasma, acne, and more. The non-prescription formula is extremely gentle for even the most sensitive skin while still being highly effective — its secret is that it works to inhibit tyrosinase production, which is an enzyme that's regularly responsible for the onset of dark spots. By encouraging cell renewal and providing antioxidants that protect skin, the look of blotchy and discolored patches will be gradually improved without any irritation.
When using Nu-Derm Clear, one to two pea-sized drops should be applied evenly to the overall face on a daily basis. Please make sure to avoid any direct contact with the eyes.
HylaSilk from Priyana MD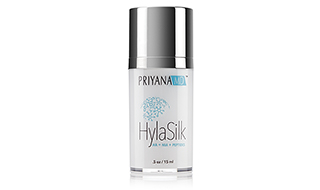 Hylasilk is an outstanding primer and serum that makeup artists and individual clients from all over the world rely on! When applied under makeup, it helps to nourish the skin from the inside out and improve lingering imperfections that can chip away at self-confidence over time. The formula is made up of hyaluronic acid, green tea, vitamins, amino acids, and peptides, resulting in a plumper and fuller appearance for the skin. Benefits include:
Reduces the appearance of wrinkles and fine lines
Enhances the appearance of firm, unyielding skin
Reduces oiliness and unwanted shine on the surface
Strengthens the skin's tough, protective barrier
Provides antioxidant defense to help fight UV damage
EltaMD UV Clear Sunscreen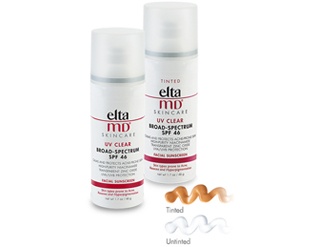 Recommended by the Skin Cancer Foundation, EltaMD UV Clear is a broad-spectrum sunscreen designed to protect sensitive skin types. The oil-free sunscreen is specially formulated for those who are prone to breakouts, rosacea, or discoloration. It promotes the appearance of healthy skin with niacinamide (vitamin B3), hyaluronic acid, and lactic acid. With a lightweight and silky texture, it can be worn with or without makeup, making it perfect for everyday use. There are also a variety of formulas available, including tinted and untinted, to find the ideal one to meet your needs.
9.0% transparent zinc oxide.
Combat skin-aging free radicals caused by ultraviolet and infrared radiation exposure using antioxidant protection.
Relieve and protect acne-prone skin.
Residue-free.
UVA/UVB sun protection.
Fragrance and oil-free.
Paraben-free.
Sensitivity-free.
Noncomedogenic.