KYBELLA® Treatments – Ocala, FL
Get the Sleek Neckline You Desire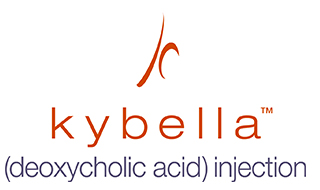 Thanks to the advent of social media, more and more people are seeing pictures of themselves on a regular basis. As a result, many are becoming very self-conscious about a common concern called submental fullness, which is better known as a double chin. This issue can be caused by weight gain, genetics, and even natural aging. If you've tried weight loss and diet and still can't get rid of your double chin, then KYBELLA® may be exactly what you need. With just a few quick treatments, it can reduce excess fat located on the chin and neck for a lifetime. Yes, a lifetime.
Why Choose Lift Facial Aesthetics for Kybella Treatments?
Finally Get Rid of Your Double Chin
Minimally Invasive & Comfortable Treatment Process
Enjoy Permanent Improvements
What is KYBELLA®?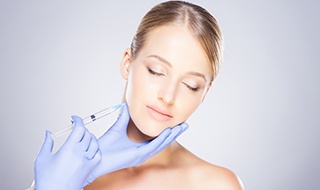 KYBELLA® is an FDA-approved injectable treatment that is proven to remove excess fat located underneath the chin. The active ingredient in KYBELLA® is synthetic deoxycholic acid, which is a naturally occurring molecule in the body that helps with the breakdown and absorption of dietary fat.
When KYBELLA® is injected into fat beneath the chin, it literally destroys those fat cells, causing the area to naturally tighten, which creates a smoother, sleeker neckline and profile. At this point, fat cells can no longer be stored or accumulated in this part of the body, so once a patient is completely satisfied with their appearance, they don't need any further treatments.
The Benefits of KYBELLA® Treatments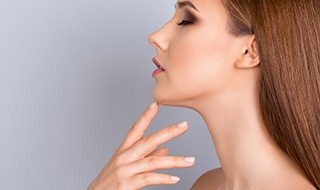 Sleeker Jawline: By making the jawline more defined, KYBELLA® can help promote a more youthful, confident appearance.
Permanent Solution: Like we touched on above, the results with KYBELLA® lasts forever. Once your treatments have been completed, you never have to worry about your double chin coming back.
Minimally Invasive: In the past, the only solution for submental fullness was surgery. KYBELLA® is a quick and easy option where just a few strategic injections. Most patients only need a small amount of topical anesthetic to experience little to no discomfort during the procedure.
Convenient: A single KYBELLA® treatment only takes about 20 minutes, and there is little to no downtime necessary afterward. Submental swelling can occur for 5-7 days after treatment, and full results will not be apparent for 4-6 weeks.
Why You Should Get KYBELLA® with Lift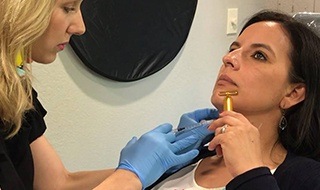 In order to eliminate your submental fullness forever, you'll likely need more than one KYBELLA® treatment. To make sure your treatments are as safe and effective as possible, they need to be administered by a skin care expert, such as our own Elizabeth Weldon. With over 12 years of experience in dermatology, she has helped countless patients achieve their beauty goals with KYBELLA®, and she can do the exact same for you.
In addition to her expertise, what makes Elizabeth special is that she takes the time with her patients. Your experience with Elizabeth will actually start with a conversation. She'll ask about your particular goals, schedule, and what you want your final result to look like. With this knowledge in mind, she can put together a treatment plan that is perfectly suited to your needs so that not only do you end up looking beautiful, but you have a smooth and stress-free experience as well.
The Cost of KYBELLA® Treatments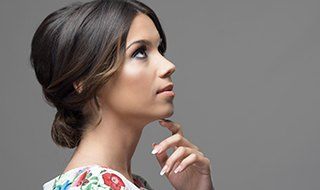 When considering the cost of a KYBELLA® treatment, it is important to note that it includes both the product itself as well as the skill and experience of the practitioner administering it. The number of treatments a patient requires to achieve permanent results can vary depending on several factors, and all of this will be discussed with you before beginning so you know exactly what to expect during your process. To give you a general idea, the cost of a single KYBELLA® treatment can range from $1,200-$1,500.
KYBELLA® Aftercare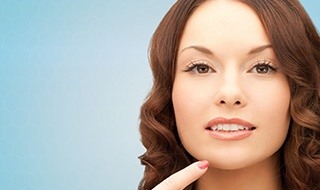 Right after treatment, you'll be advised to apply ice to the area every hour for 5-10 minute intervals, making sure to take breaks in-between in order to protect your skin. Some slight swelling is to be expected, and you should avoid touching or massaging the area for several days. You'll be able to take over-the-counter medication to manage any lingering discomfort. It's also recommended that you sleep with your head slightly elevated for the first 2-3 nights.
Make an Appointment Today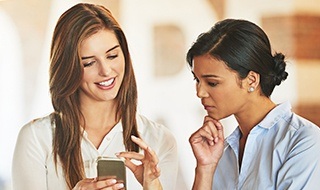 Submental fullness is a very stubborn problem for many people, but KYBELLA® is a proven solution that has already helped countless patients dramatically improve their appearance and renew their confidence at the same time. If you're ready to finally say "goodbye!" to your double chin, contact Lift Facial Aesthetics to schedule an appointment today.