KYBELLA® Treatments – Ocala, FL
Get the Sleek Neckline You Desire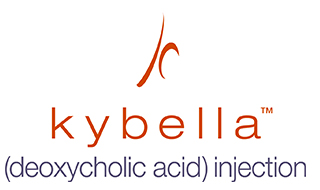 Thanks to the advent of social media, more and more people are seeing pictures of themselves on a regular basis. As a result, many are becoming very self-conscious about a common concern called submental fullness, which is better known as a double chin. This issue can be caused by weight gain, genetics, and even natural aging. If you've tried weight loss and diet and still can't get rid of your double chin, then KYBELLA® may be exactly what you need. With just a few quick treatments, it can reduce excess fat located on the chin and neck for a lifetime. Yes, a lifetime.
Why Choose Lift Facial Aesthetics for Kybella Treatments?
Finally Get Rid of Your Double Chin
Minimally Invasive & Comfortable Treatment Process
Enjoy Permanent Improvements
What is KYBELLA®?
KYBELLA® is an FDA-approved injectable treatment that is proven to remove excess fat located underneath the chin. The active ingredient in KYBELLA® is synthetic deoxycholic acid, which is a naturally occurring molecule in the body that helps with the breakdown and absorption of dietary fat.
When KYBELLA® is injected into fat beneath the chin, it literally destroys those fat cells, causing the area to naturally tighten, which creates a smoother, sleeker neckline and profile. At this point, fat cells can no longer be stored or accumulated in this part of the body, so once a patient is completely satisfied with their appearance, they don't need any further treatments.
The Benefits of KYBELLA® Treatments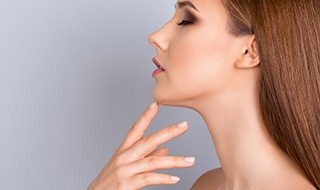 Sleeker Jawline: By making the jawline more defined, KYBELLA® can help promote a more youthful, confident appearance.
Permanent Solution: Like we touched on above, the results with KYBELLA® lasts forever. Once your treatments have been completed, you never have to worry about your double chin coming back.
Minimally Invasive: In the past, the only solution for submental fullness was surgery. KYBELLA® is a quick and easy option where just a few strategic injections. Most patients only need a small amount of topical anesthetic to experience little to no discomfort during the procedure.
Convenient: A single KYBELLA® treatment only takes about 20 minutes, and there is little to no downtime necessary afterward. Submental swelling can occur for 5-7 days after treatment, and full results will not be apparent for 4-6 weeks.
Why You Should Get KYBELLA® with Lift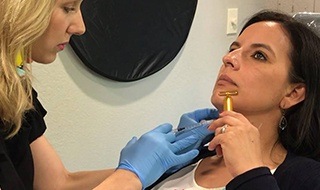 In order to eliminate your submental fullness forever, you'll likely need more than one KYBELLA® treatment. To make sure your treatments are as safe and effective as possible, they need to be administered by a skin care expert, such as our own Elizabeth Weldon. With over 12 years of experience in dermatology, she has helped countless patients achieve their beauty goals with KYBELLA®, and she can do the exact same for you.
In addition to her expertise, what makes Elizabeth special is that she takes the time with her patients. Your experience with Elizabeth will actually start with a conversation. She'll ask about your particular goals, schedule, and what you want your final result to look like. With this knowledge in mind, she can put together a treatment plan that is perfectly suited to your needs so that not only do you end up looking beautiful, but you have a smooth and stress-free experience as well.
The Cost of KYBELLA® Treatments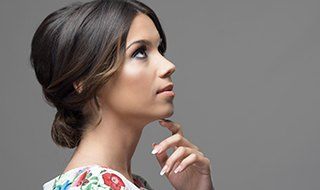 When considering the cost of a KYBELLA® treatment, it is important to note that it includes both the product itself as well as the skill and experience of the practitioner administering it. The number of treatments a patient requires to achieve permanent results can vary depending on several factors, and all of this will be discussed with you before beginning so you know exactly what to expect during your process. To give you a general idea, the cost of a single KYBELLA® treatment can range from $1,200-$1,500.
KYBELLA® Aftercare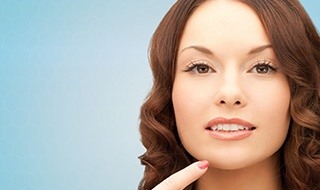 Right after treatment, you'll be advised to apply ice to the area every hour for 5-10 minute intervals, making sure to take breaks in-between in order to protect your skin. Some slight swelling is to be expected, and you should avoid touching or massaging the area for several days. You'll be able to take over-the-counter medication to manage any lingering discomfort. It's also recommended that you sleep with your head slightly elevated for the first 2-3 nights.
Make an Appointment Today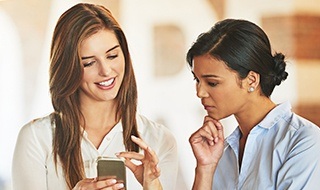 Submental fullness is a very stubborn problem for many people, but KYBELLA® is a proven solution that has already helped countless patients dramatically improve their appearance and renew their confidence at the same time. If you're ready to finally say "goodbye!" to your double chin, contact Lift Facial Aesthetics to schedule an appointment today.
Kybella FAQs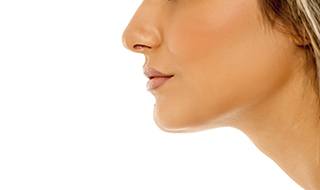 If you are tired of looking at a fuller face and want to do something about your double chin, it's time to consider how Kybella in Ocala can help. Our skincare specialist and board-certified advanced registered nurse practitioner, Elizabeth Estes Weldon, can provide the treatment you need to feel better about the way you look. But before you jump into improving your facial aesthetics, we invite you to review some of the most commonly asked questions about Kybella. This will give you deeper insight into this unique form of treatment as well as help you make a confident decision about your personal appearance. If you have additional questions or would like to schedule an appointment, please contact our office today.
What is the difference between Kybella and liposuction for a double chin?
To rid the fat underneath your chin, there are two ways you can go about it: liposuction or Kybella. Typically, with liposuction, you will undergo an actual surgical procedure that can take 1-2 sessions for necessary results to be achieved. With Kybella, treatment usually requires 2-4 sessions but leaves no scars. This is one of the reasons many patients opt for Kybella because it is administered through a small syringe. This allows you to achieve a beautiful, more youthful appearance that doesn't require leaving a scar behind.
If I gain weight after having Kybella, will my double chin come back?
Unfortunately, there is no guarantee that the fat underneath your chin will not come back. Because this particular area is composed of fat cells, Kybella treatment will help to break them down, but if you go on to gain weight in the future, there is a possibility that your double chin will come back. When undergoing this type of treatment, it is important that you follow a well-balanced diet and exercise routine to maintain a healthy weight and avoid additional fat cells developing in this area of your face.
How many treatments will I need?
Elizabeth will customize your treatment plan based on your individual needs, but you can expect to see dramatic results in 2-4 sessions. Some patients may require up to 6 visits, which are all spaced one month apart. This will ensure you are not receiving too much at one time, and you are allowing the synthetic deoxycholic acid to move into place and destroy the necessary fat cells in a timely manner. Each patient is different, and the severity of each case will likely determine how many injections are necessary to give you the results you desire.
How long will my results last?
Fortunately, when choosing Kybella, you can expect lifelong results that require no additional treatment. But there is one caveat…you must maintain a healthy weight. As mentioned earlier, it is possible for this area of fat cells to return if you begin to gain weight. It's important that you follow the instructions and suggestions of your skincare specialist to ensure you are able to maintain your new appearance. If you have any concerns, Elizabeth will address them and offer available treatment options in the future should you need them.