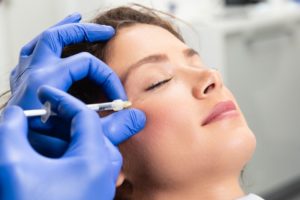 You've decided you want to have Botox. Congratulations! By eliminating those fine lines and wrinkles, you'll be well on your way to achieving a smoother, younger-looking appearance. But how long will it take to notice a significant difference? If you're unsure of what to expect or if your Botox results will be instant, find out from a skincare expert who will share exactly how the process works and when you can expect to see the beautiful transformation.
Botox: The Magical Eraser
If you're looking to remove fine lines and wrinkles around your eyes, nose, forehead, and mouth, Botox is a superior cosmetic solution that will have you seeing a more youthful appearance in no time at all. Targeting your frown lines and crow's feet, Botox relaxes specific facial muscles, preventing them from contracting.
Eliminating the Wrinkles: How it Works
When arriving for your Botox injection, a skincare expert will discuss your goals and what kind of result you hope to achieve using this method of treatment. Crafting a personalized plan, she will target key areas of your face that you're looking to change.
With a small, fine needle, she will carefully inject the Botox solution into your problem areas. You might experience some redness or tenderness in the area, but don't worry, these will go away quickly.
True or False: Results Are NOT Immediate
For some patients, they believe that immediately after receiving Botox, the results will be instant. This is not true. In fact, you are highly encouraged not to rub the injection site for at least 48 hours. This will allow the Botox to settle into place. It's also necessary for you to remain upright for a few hours after treatment. Exercise or ingesting alcohol should be avoided, too.
You will typically notice results after a few days or even a week after treatment. It takes time for the Botox to work its magic, effectively smoothing out your facial features. Normal results will last between 3 and 4 months, and if you want to maintain your results, it's best to schedule follow-up appointments with your cosmetic expert. These quick touch-ups take less than 30 minutes.
Botox is one of the most common cosmetic treatments available, and it has maintained its popularity because of how well it works at covering problem areas on the face. If you're ready to stand up against the aging process and retrieve that youthful appearance, talk to your skincare professional about Botox.
About the Author
Elizabeth Estes Weldon, ARNP is a board-certified, Advanced Registered Nurse Practitioner (ARNP) with 12 years of experience working in dermatology, Botox, and dermal fillers. She earned her Bachelor of Science in Nursing from the University of Florida and worked for one year as a Labor and Delivery Nurse before earning her master's degree in Nursing from the University of Florida. As a Master Injector, she has continued her education and participated in many training courses related to Botox and Fillers. To learn more about her or our services, contact us via our website or call (352) 433-0888.