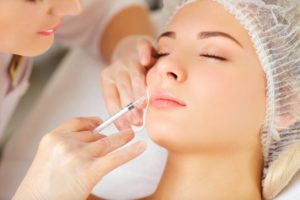 Getting rid of fine lines and wrinkles is typically the ultimate goal for anyone choosing Botox, but how much is necessary to effectively achieve desired results? You want a more youthful appearance, but how many injections will it require? By having your cosmetic procedure performed by a skilled professional, you can feel confident that all measures will be taken to ensure your safety, but how many units of Botox is necessary? Let's find out.
How Does Botox Work?
If you've heard of Botox, you're aware of its ability to freeze muscles and eliminate wrinkles. While yes, this is true, you've probably also seen Hollywood's attempt to overexaggerate the results of Botox in movies and TV. It is possible for someone to have "too much" Botox? Yes. Is it possible to achieve beautiful, natural-looking results? Absolutely.
When administered by a trained skincare expert, Botox can eliminate frown lines, crow's feet, forehead wrinkles, and even alleviate serious jaw pain caused by TMJ.
The way it works is that you will discuss your personal goals that you hope to achieve with Botox. Once the areas of your face are evaluated, a personalized treatment plan is created. Finally, the actual process begins with a small, thin needle that injects the botulinum toxin into the designated areas of your face. This will prevent muscle contractions from occurring and causing wrinkles and fine lines.
How Many Units of Botox is Necessary to Achieve Results?
Much of this answer depends on the area of your face you are looking to change. It also depends on other various factors, including:
Your age
Weight
Lifestyle habits (i.e. smoking)
Male or Female
Skin tone and color
It's important to remember that your skincare expert will provide a recommended dosage during your consultation, but to have a better understanding of what you can expect for each area of the face, Botox® Cosmetic recommends the following units:
Forehead: 20 units
Glabellar Lines: 20 units (frown lines between the eyes)
Lateral Canthal Lines: 24 units (crow's feet)
You should understand that it can take a few days or even a week to begin to see the results. You can expect a single Botox treatment to last between 3-4 months before needing a touch-up. The good news is that there are no elaborate steps you need to take to maintain your new and improved look, so as long as you're dedicated to receiving touch-ups every few months, you will retain your youthful appearance.
About the Author
Elizabeth Estes Weldon, ARNP is a board-certified, Advanced Registered Nurse Practitioner (ARNP) with 12 years of experience working in dermatology, Botox, and dermal fillers. She earned her Bachelor of Science in Nursing from the University of Florida and worked for one year as a Labor and Delivery Nurse before earning her master's degree in Nursing from the University of Florida. As a Master Injector, she has continued her education and participated in many training courses related to Botox and Fillers. To learn more about her or our services, contact us via our website or call (352) 433-0888.