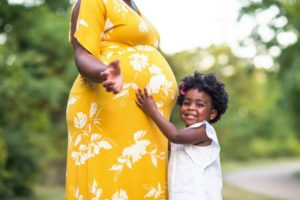 Would you like to reduce the appearance of wrinkles and lines with BOTOX, but aren't sure whether it's a safe treatment option for people who are pregnant? Although you'll need to wait until after you give birth to reduce the appearance of aging and restore your youthful appearance, BOTOX is still a great gift to give yourself!
Is BOTOX Safe While Pregnant?
If you're hoping to get your last BOTOX treatment in before your sole life-focus becomes your newborn child, unfortunately, your professional won't be able to offer you injections during your pregnancy. No BOTOX studies have been completed on pregnant people because animal studies have been conducted that establish a link between fetal abnormalities and the treatment. Although developing wrinkles may have you feeling stressed and looking visibly aged, it's best to wait until after you give birth.
The Gift of BOTOX After Pregnancy
Becoming pregnant is something that will change your life. Unfortunately, the effects after giving birth can linger and wear down your self-esteem. One of the predominant physical impacts that most parents loath after they give birth are wrinkles and fine lines that appear in a variety of places over their body. Plus, the stress of getting up every night with your newborn can also physically age you.
You can restore your pregnant-glow and youthful appearance with BOTOX injections as soon as you stop breastfeeding. It's a good idea to wait until your skin and hormones have settled back to normal as well, that way, you'll be able to achieve the results you desire. The bottom-line is, why ruin something that's already good? While you're pregnant, you'll have a natural glow and youthful presence about you, so there's no need to alter that.
About the Author
Board-certified Advanced Registered Nurse Practitioner, Elizabeth Weldon, has over 12 years of experience in the field of dermatology, BOTOX, and dermal fillers. She has completed countless advanced training courses on BOTOX and fillers and has earned the title of Master Injector. A percentage of all profits from the services that she provides are donated to local women and children in need. For questions or to schedule your post-pregnancy BOTOX appointment, visit Lift Facial Aesthetics' website or call 352-433-0888.