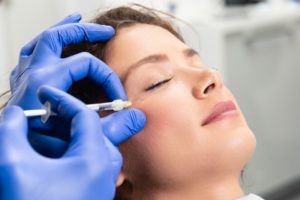 You've seen both women and men receiving Botox treatments for years. One day, you see them with a few forehead wrinkles and a week later, the look nearly 10 years younger. Realizing that daily facial movements will eventually cause these fine lines to appear on your own face, you want to take proactive steps to prevent them, but when can you start? Let a Botox master injector provide insight into when it is the appropriate time to start treatment, so you can keep your youthful appearance longer.
What is the Appropriate Age to Start Using Botox?
The ultimate answer is that you can start using Botox as early as your 20s if you prefer, especially if you're looking to take preventive measures to "slow down" the aging process. Some specialists refer to this as "baby Botox" because it is administered in smaller doses. It also works as a deterrent for fine lines and wrinkles that can begin to more prominently develop once you reach your 30s.
What Are the Leading Causes of Premature Aging?
If you think the only things that can cause facial aging are smiling, frowning, laughing, or yawning, guess again. Too much sun exposure, smoking, and excessive drinking can all lead to these age lines appearing on your face. In fact, it is reported that 20% of smokers fall into the age group of 25-34-year-olds.
Why Should You Consider Botox Early On?
No matter your reason, Botox can be a beneficial treatment to keep yourself looking (and feeling) young. But if you want to know why many 20-somethings opt for regular injections at this age, it could be because:
Their face has been damaged by the sun
They have sunbathed without proper protection (i.e. sunscreen, hats, clothing)
They use a tanning bed
While Botox can be performed on almost anyone, those who are seeking cosmetic treatment and who are under the age of 18 should not receive injections because it is possible that the face is still developing. Those who desire to look like their favorite celebrity may also think Botox injections will get them closer to the image they want to see in the mirror, resulting in unrealistic facial expectations.
A trained and expert aesthetic practitioner will be happy to sit down and discuss your goals and what you hope to achieve with the help of Botox. During an examination, they will look at the problem areas of your face and determine if you are eligible for treatment.
About the Author
Elizabeth Estes Weldon, ARNP is a board-certified, Advanced Registered Nurse Practitioner (ARNP) with 12 years of experience working in dermatology, Botox, and dermal fillers. She earned her Bachelor of Science in Nursing from the University of Florida and worked for one year as a Labor and Delivery Nurse before earning her master's degree in Nursing from the University of Florida. As a Master Injector, she has continued her education and participated in many training courses related to Botox and Fillers. To learn more about her or our services, contact us via our website or call (352) 433-0888.