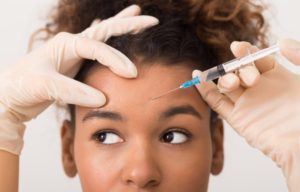 Unhappy with all the fine lines and wrinkles creeping up on different areas of your face? Missing that youthful appearance you once had? The good news is that Botox is a great way to achieve a smoother, more beautiful look. But how does it really work and where can it be applied? Before you schedule your initial appointment, take some time to learn more about this tried and true cosmetic treatment that will have your friends and family asking, "What's your secret?"
Where Can Botox Be Used?
When it comes to your facial appearance, Botox is a great way to achieve the look you truly desire. Its versatility makes it popular among Hollywood stars, working professionals, and stay-at-home parents. If you're wondering where exactly Botox can be used to improve the look of your face, here's a breakdown:
Glabellar Lines: This is the area between your eyes and directly above your nose.
Crow's Feet: These appear at the corners of your eyes and usually appear when you are smiling.
Forehead Wrinkles: Whether surprised or concentrating on something, these wrinkles appear as a result of your facial muscles contracting.
Bunny Lines: Does something smell bad? If so, you're probably scrunching up your nose, which can cause these lines to appear.
Upper Lip Wrinkles: Puckering up for your partner? Taking a smoke break? Vertical wrinkles will appear above your upper lip.
Marionette Lines: If you develop vertical lines that draw down from the corners of your mouth, you may want treatment for these particular wrinkles.
Chin Dimple: Resembling an orange peel, these lines can be treated with Botox and dermal fillers.
Other Ways Botox Can Improve Appearance
In addition to eliminating fine lines and wrinkles, Botox offers additional ways for you to recapture that youthful appearance you desire. Want a quick face lift without the surgery? Maybe you need a little help in softening your jawline? It's likely you may not even realize all the beneficial things Botox can do. To help you better understand, here are a few additional ways it can make a difference in your facial aesthetic.
Temporary Face Lift: Want to avoid a surgical procedure but tired of looking at a sagging face? Botox can be used to shape your jawline, lift your nose, and of course, reduce wrinkles.
Lift Your Nose: As you age, your nose can begin to sag. Fortunately, Botox can be injected into the base of your nose, allowing it to appear more lifted by releasing the muscles that can pull it down.
Tighten Your Jawbone: If you're aware of the term "jowls," you know they are unsightly in appearance. With Botox, your skin in the area around your jawline can be tightened and lifted, creating a more defined structure.
Plump and Lift Your Lips: Don't want to bother with expensive lip-plumping products? You can make them appear more voluminous with the help of Botox. With just a few small injections into your lips, you will quickly notice fuller, more kissable lips.
Achieving a more youthful appearance doesn't have to require hours of surgery. With the help of a licensed and skilled master injector, you can reap the benefits of Botox and see faster results that will have you beaming with confidence day-in and day-out.
About the Author
Elizabeth Estes Weldon, ARNP is a board-certified, Advanced Registered Nurse Practitioner (ARNP) with 12 years of experience working in dermatology, Botox, and dermal fillers. She earned her Bachelor of Science in Nursing from the University of Florida and worked for one year as a Labor and Delivery Nurse before earning her master's degree in Nursing from the University of Florida. As a Master Injector, she has continued her education and participated in many training courses related to Botox and Fillers. To learn more about her or our services, contact us via our website or call (352) 433-0888.