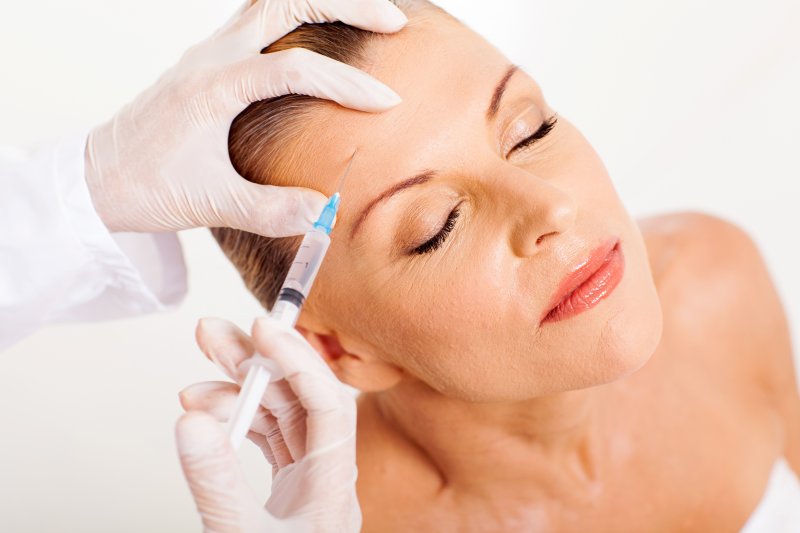 TMJ headaches in Ocala can be bothersome, annoying, and debilitating. You might feel as if there is nothing you can do or take that will help to alleviate the discomfort, but what if there was a solution that could take away the pain in your head, jaw, and surrounding facial muscles? Read on to discover the many great benefits of Botox and how it can help you rid these unwelcomed headaches.
What Causes TMJ?
TMJ or temporomandibular joint is often caused by stress. When inflammation occurs in the jaw joints, it can often lead to soreness and pain developing along the areas that connect to the skull. Your muscles can also become tense and cause various forms of pain throughout the face, teeth grinding (bruxism), headaches or migraines, facial swelling, sore cheeks, and more.
While there are effective forms of treatment offered by dental offices (i.e., oral appliances), another solution is proving to be highly effective in more ways than one.
The Benefits of Botox
You might assume Botox in Ocala is only capable of improving facial aesthetics, but that is not true at all. In fact, while it does eliminate wrinkles and fine lines, it also relaxes muscles and, in turn, minimizes your risk for serious headaches caused by TMJ. Researchers discovered that 90% of individuals experienced an improvement in symptoms in one particular study.
By injecting Botox into the appropriate areas of the face, the solution will not only reduce the headaches, but it will also help you to sleep more soundly and reduce your chances of grinding your teeth at night while you rest.
Botox treatments are easy to perform and provide outstanding results that can last for months. Not only will you be able to resume normal activity immediately following your treatment, but you'll notice a dramatic difference in how you feel in a matter of days. This can be a welcomed relief for anyone who suffers from TMJ headaches.
Are There Other Treatment Options?
In addition to receiving Botox, you can also practice some of the following tips to minimize your headaches:
Practice meditation or yoga to relax and rid your body of any stress.
Practice deep breathing to focus your efforts on other areas of the body.
Quit biting your fingernails, chewing gum, and eating ice.
Identify what causes you to grind your teeth and work to eliminate it or reduce its impact on you.
Try to keep your teeth from touching while eating
TMJ headaches can be a thing of the past if you commit to seeing a skincare specialist for Botox injections. Once you experience the changes that can occur that allow for a better quality of life, you'll wonder why you didn't do it sooner.
About the Author
Elizabeth Estes Weldon, ARNP is a board-certified, Advanced Registered Nurse Practitioner (ARNP) with 12 years of experience working in dermatology, Botox, and dermal fillers. She earned her Bachelor of Science in Nursing from the University of Florida and worked for one year as a Labor and Delivery Nurse before earning her master's degree in Nursing from the University of Florida. As a Master Injector, she has continued her education and participated in many training courses related to Botox and Fillers. To learn more about her or our services, contact us via our website or call (352) 433-0888.