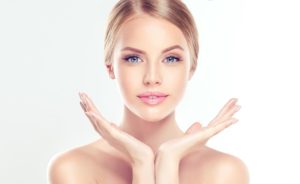 One of the top concerns people have when looking at their pictures or when looking in the mirror is a double chin. Submental fullness (double chin) can easily make you feel insecure about your appearance. Although it is a natural part of the aging process, genetics and weight gain can make the issue worse. It can seem almost impossible to improve the problem. When diet and exercise are not enough, you might be tempted to try Botox. While the injections can help, they only offer short-term results What if you could enjoy a longer lasting solution? Now you can with Kybella for double chin treatment.

What is Kybella?
Kybella is a permanent solution to treat a double chin that is approved by the FDA. The injection removes excess fat underneath the chin using the active ingredient synthetic deoxycholic acid. This is a naturally occurring molecule in your body that is responsible for aiding the breakdown and absorption of dietary fat.
How Does It Work?
After an initial consultation for Kybella treatment, you are scheduled for your procedure. Kybella is injected into the fat beneath your chin. It destroys the fat cells, allowing the area to tighten. Overall, you will notice an improvement in your profile as your neckline looks smoother and sleeker. You may experience slight swelling or bruising for about 1 week after the treatment, but the side effects will not last any longer than 4 to 6 weeks.
Unlike Botox, you will not need to continue to get injections every few months to maintain the results. After the fat cells are destroyed, fat will no longer accumulate or be stored underneath the chin. As a result, you will enjoy lasting results, so you will not need any additional treatments.
Benefits of Kybella
When compared to other cosmetic treatments, Kybella provides many advantages, including:
Noticeable Results: Your jawline will be more defined to restore a youthful, confident appearance.
Permanent Results: You will not need to worry about needing maintenance injections.
Minimally Invasive: Enjoy lasting, noticeable results without the need for surgery or sutures.
Quick Results: You will have the results you want after just one treatment, which usually takes about 20 minutes.
Virtually Pain-Free: A topical anesthetic is used, so you will experience minimal pain and discomfort.
Is Kybella Right for Me?
If you are tired of feeling self-conscious about your double chin, you may be a candidate for Kybella. When dieting and exercise are not enough to give you the results you want, it is time to schedule your consultation for the injections. After just one appointment, you will love what you see in the mirror.
Meet Elizabeth Estes Weldon
Elizabeth is a board-certified Advanced Registered Nurse Practitioner who is supported by more than 12 years of experience in dermatology, Botox, and dermal fillers. She helps her patients look and feel their best using the latest treatments, like Kybella. If you are ready to say good-bye to your double chin, contact our office today to schedule your consultation.